Be prepared for the next supply chain crisis.
Download our 2021 Global Supply Chain Agility Report to get insight into the lessons learned from the past year's supply chain disruptions.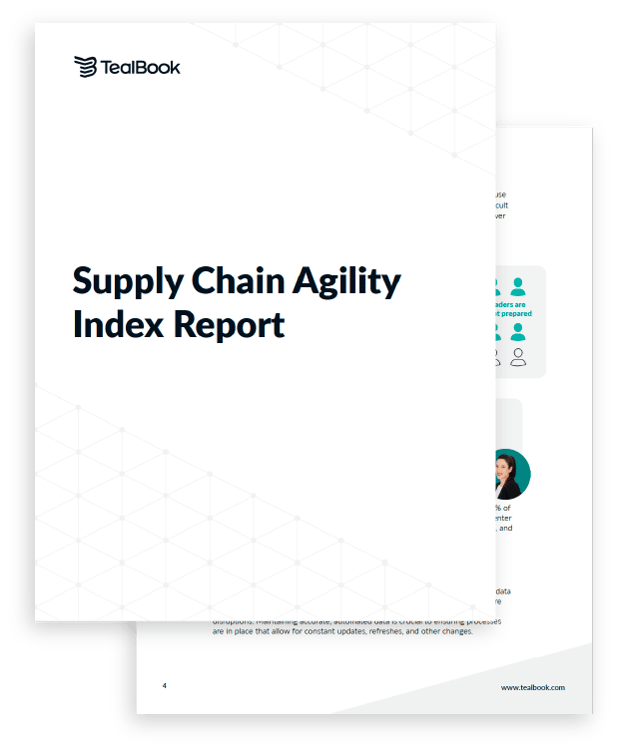 "One of the least appreciated and subtle changes in our supply chains is that they rely predominantly on third parties/suppliers. From external manufacturing to logistics providers, more and more functionality leverages capabilities outside the four walls. This introduces a tremendous level of complexity on top of already existing complex operations."
-Dr. Elouise Epstein, Partner, Kearney
TealBook has partnered with industry experts to examine the most recent impactful supply chain disruptions and how they have affected our industry.
By putting these disruptions under a microscope, we've discovered how procurement teams can safeguard against future supply chain crises.
Key Learnings
The cost of a supply chain disruption can be quantified by assessing dollars lost and the supply chain's Time to Recovery (TTR)

To mitigate the cost of future disruptions, procurement teams should prioritize contingency plans and processes for consistent data refreshes.

Procurement professionals must take a hard look at their supplier data and consider what improvements can be made to further digitize their data and improve performance and agility.